About Wood + Day
At Wood+Day Partnership our core disciplines are architecture, interior design, master planning and project management. We are a medium sized, Sydney-based practice with a staff of fifteen that offer a variety of skills and expertise. Brian Wood is the principal and, with over 30 years of experience in the industry, leads a young, enthusiastic and creative team.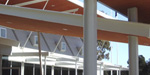 The practice has carried out more than 650 commissions in Australia since its establishment in 1957. We have also completed developments in Malaysia, Vietnam and New Zealand. Presently we are working on projects in Albury, Corowa, Canberra, Sydney, St Georges Basin and the Central Coast.
The Design Process
We have a holistic approach to the design process, focusing on the integration of external components of the building with the interior spaces and the natural environment. We understand that a building affects the quality of life of its users on conscious and subconscious levels, contributing to the health, creativity and well being of the occupants. A healthy, responsive building is achieved through sound planning, maximising solar gain, natural light, natural ventilation, colour and form. We examine water and energy management solutions, which offer cost savings as well as benefiting the natural environment. Solutions for photovoltaic arrays, solar hot water, storm water reuse and grey water recycling are other possibilities, with their inclusion generally determined by the budget.
We consider ourselves to be the creative vehicle that interprets the functional needs and the economic and time restraints of a client's brief. We are acutely aware that every building project has a unique set of criteria, and hence demands a unique solution. Depending on the project we have an experienced team of consultants to draw upon for structural, hydraulic, electrical, mechanical, energy and acoustics solutions.
Our project documentation is produced on a computer aided design and drafting system. The CAD software is primarily ArchiCAD and AutoCAD used in both the Mac and Windows environments. We can readily translate to other systems via a wide variety of industry standard formats and can transmit electronically via email using pdf files for viewing and printing from most standard computers.
A complete range of services
In addition to the full range of traditional architectural services, our practice also provides specialist interior and graphic design expertise, together with an extended range of services in the pre-design, contact and post-contract management aspects of building work. These include needs analysis and brief formulation, feasibility studies and building recycling evaluation.
The Wood+Day Partnership has considerable experience with most of the alternative contract procedures, from conventional tendering to project management and construction management forms and design and build methods. We place particularly high importance upon ensuring that whatever form of project delivery is being used, that the completed building remains faithful to the original intent and that at all times appropriate levels of professional independence and clear lines of responsibility are maintained.
We have applied the knowledge and experience accumulated over the last 46 years to award-winning buildings in hospitality and leisure, retail, commercial, educational and residential projects and to strategic advice and master plans aimed at helping our clients gain the best use from their facilities over a long period.
Importantly, we recognise that our future depends on providing our clients a commitment to long-term professional involvement. Accordingly, we get to know our clients, their organisations and their operating environment, and work closely with them to realise innovative and value-added solutions to their projects.