Thurgoona Country Club Resort
The brief for the club was to create a contemporary building with a bright, fresh feel incorporating passive water and energy efficient elements. Our response is a structure built from steel, brick, glass and ecoply with naturally lit spaces, high ceilings and a vivid interior scheme.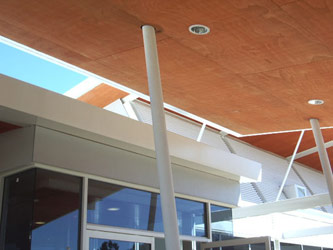 Large roof planes with long eaves protect the north facing windows from direct solar gain between October and March. Steel louvred awnings have been installed over the windows to the function room and administration spaces to block the sun but allow ambient light through.
Between the roof planes is clerestory glazing allowing floods of natural light into the central and south facing spaces of the club. Incorporated in these panels is louvered glass to allow hot air to rise up and out of the building.
With the expansive views to the south double glazing has been used to reduce heat loss. A covered terrace to the south west prevents the egress of late afternoon low angle sun.